First up is The Jane Austen Academy series by Cecilia Gray.  Set in a fictional prep school, popular Jane Austen characters are updated for the 21st century.  Book 2, So Into You is currently available online for free at Amazon.ca.  Of course, you can always read the original works that they are based on here: Pride and Prejudice, Sense and Sensibility, and Northanger Abbey. 
If you're wondering about the trailer below– I think this was the pilot for a potential TV series…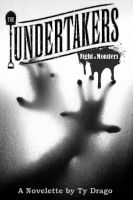 For adventure fans of Ty Drago, the author has created a short story, Undertakers: Night of Monsters set in between the events of Book 2 and 3 of his Undertakers series.  The first 2 parts are available to read online or to download to your portable device.  The 3rd part will be uploaded at a later date.
As part of their Summer Reading program, SYNC is offering weekly downloads of 2 audiobook titles: a current YA title paired with a classic YA title.
This title is a SYNC free download from July 18 – July 24, 2013
To start off you need to download the OverDrive Media Console (Sync titles won't play without it!).  After you've done that, you will have to create a SYNC user account.  Finally, choose this week's audiobook!
If you own a Kobo e-reading device, there are plenty of free YA reads that are available.  These books tend to be  by new authors and are meant to give potential readers a taste of what they can expect from other books in the series.
The BAnQ (Bibliotheque et Archives nationales) has many books available online either as e-books or audiobooks.  As long as you are a resident of Quebec you can go to the online subscription form to become a member.

 
If you already have your client number/password, click on E-books and select Overdrive for books in English.
The Westmount Public Library has a good collection of read-along e-books.  These are mostly titles from the Canadian Orca Currents and Orca Soundings series.